Air Conditioning Installation
Are you finishing construction on a new home or commercial space? Are you interested in upgrading your air conditioning to a more energy-efficient and cost-effective system? Contact Assured Mechanical LLC for some of the best air conditioning installation service available in Egg Harbor Township and the surrounding area. Our team has more than 30 years of combined experience in air conditioning installation, and since we opened our doors in 2006, we've earned a reputation for caring about customer satisfaction. We bring together timely turnarounds and quality workmanship, aiming to meet your needs with an air conditioner that's set up for long-term success. We even stand behind our work with a one-year, no-questions-asked warranty for all new heating and air conditioning installations! Want to learn more? We're standing by to take your call.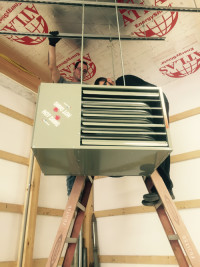 Assured Mechanical LLC is pleased to offer:
Central air installation
Window unit installation
Wall unit installation
Duct installation
And more!
We work with major brands including Ruud and Mitsubishi, and you can count on our air conditioning installers to understand what sets various brands apart from one another. Our experience has given us the knowledge and skill to quickly and accurately carry out air conditioning installation, setting everything up properly so you can enjoy a cool and comfortable indoor environment right away and for many summers to come. For your protection and peace of mind, we're licensed, bonded, and insured for air conditioning installation service, as well as for replacements. We'll get the job done right.
No job is too big for the air conditioning installers at Assured Mechanical LLC to tackle. Whether you come to us for installation of a single wall AC unit or you need central air installation for an entire office building, we've got you covered. For replacement jobs, we'll even haul away old equipment, so you don't have to. We hold a Home Improvement General Contractors License as well as a Master HVAC License. In short, making us your go-to air conditioning installer in Egg Harbor Township is just a good idea. Call now to get a free cost estimate!
Air Duct Installation
Do you need new ductwork as part of central air conditioner installation? Assured Mechanical LLC is the company to call. Among our many services, we're pleased to offer duct installation and replacement. Your ductwork is what keeps air flowing smoothly through your home or commercial space, and it's important to put this vital part of your HVAC system in the hands of professionals who specialize in air duct services.
Learn more about our qualifications for air conditioner and duct installation and book your appointment with us by calling today. 
air conditioning contractors
central air conditioning
installing air conditioning