Air Filtration Systems
If you're unhappy with the quality of the air you're breathing at home or at work, it may be time to install an air filtration system. A whole-house air purifier will help you enjoy fresher and cleaner air, clearing away the contaminants and allergens that leave you feeling less than 100%. In and around Egg Harbor Township, call Assured Mechanical LLC to inquire about air purification for your residential or commercial building. We'll be happy to discuss which commercial or home air filters might be right for your space and your needs. We also install whole-house humidifiers and dehumidifiers, if you have a lack of or too much moisture in the air. We use top-of-the-line air cleaning systems to ensure that you're satisfied with the finished product. Call today to learn more!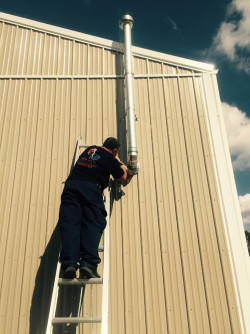 Installing an air filter at home or work can get rid of air pollutants including:
Bacteria
Pollen
Mold spores
Dust
Dust mites
Pet dander
Fungi
And other allergens and contaminants
Coupled with a whole-house humidifier or dehumidifier, an air filtration system can improve your general health and well-being dramatically. You, your family, your employees, or your customers can enjoy a safer and more pleasant indoor environment, experiencing fewer respiratory issues and a lower risk of other illnesses. Clean air can also boost morale and productivity. What's not to love?
When you work with Assured Mechanical LLC, you can count on getting an air filter at home or work that is installed correctly and that continues working long into the future. Whether you hire us to install a whole-house air purifier as part of new construction or you need replacement of an old air purification system that is no longer doing its job, we'll get you set up for success. In the case of replacements, we'll even haul away old equipment for you. When we leave your property, you'll be ready to enjoy the air you breathe right away.
Reliable Air Clean Systems
Assured Mechanical LLC is proud to be a licensed, bonded, and insured business, holding a Home Improvement General Contractor's License and a Master HVAC License. We've been installing commercial and home air filters and humidifiers/dehumidifiers in Egg Harbor Township since 2006, and our team has a combined 30 years of experience in the industry. For your protection and peace of mind, we stand behind our air filtration systems with a one-year, no-questions-asked warranty on new installations. On top of that, most of the equipment we install comes with a 10-year warranty on major parts. We've become a local favorite by giving our customers lasting air filters at home and at work.
Want to become one of our satisfied customers? Call or e-mail us today for a free estimate! 
Air Filtration
Home Air Filtration
Air Filters Home