Water Heater Repair
If you enjoy having hot water on demand for showering, cooking, washing dishes and clothes, and other needs, you'll definitely struggle when you have water heater problems. A water heater leaking, failing to produce hot water, or malfunctioning in any other way just can't meet your daily needs. Luckily, Assured Mechanical LLC is standing by to provide you with fast and effective water heater repair. As a licensed, bonded, and insured water heater service with 30 years of experience among our technicians, we take great pride in the caliber of our workmanship. We also strive for timely turnarounds whenever possible, even offering emergency water heater repairs if your issue can't wait. Want to learn more about what sets Assured Mechanical LLC apart from our competitors in the Egg Harbor Township area? Call or e-mail us today!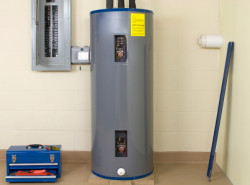 We offer both electric and gas water heater repair for both traditional and tankless units. Come to us if you're experiencing water heater problems including:
Failure to produce enough hot water
Failure to produce any hot water
Too-frequent cycling on and off
Strange noises
Unusual odors
Water heater leaking
Or any other malfunctions
We'll step in to provide water heater repair that's reliable and lasting. Our licenses include a Home Improvement General Contractor's License and a Master HVAC License, and we're proud to be on the South Jersey Preferred Vendors list. Our extensive experience in electric and gas water heater repair has taught us how to quickly and accurately diagnose all sorts of issues, and then how to carry out skilled repairs. We want to solve your water heater service problems once and for all.
Water Heater Installation
Are you considering replacing your old or damaged unit with a high-efficiency water heater? Are you finishing construction on a new home or commercial space? Make Assured Mechanical LLC your first choice for water heater installation. We offer both traditional and tankless water heater installation, as well as installs for both gas and electric systems. We can help you select a new water heater from among the models on the market. Then, we'll hook everything up correctly so you can enjoy long-term results. When it comes to water heaters, we know our stuff.
Call or e-mail Assured Mechanical LLC today to get a free cost estimate for the water heater repairs or other services you require! From repairs for a traditional appliance to tankless water heater installation, we'll always tailor our services to your unit's specifications for best results. Plus, because we offer emergency services, you can count on us to be there when you need us most. Assured Mechanical LLC is your best source for water heater install, repair, and replacement in Egg Harbor Township. 
Water Heater
Hot Water Heater
Water Heater Repair
Tankless Water Heater
Water Heater Installation
Water Heater Service